Date:
Location: The Redwood Run Disc Golf Course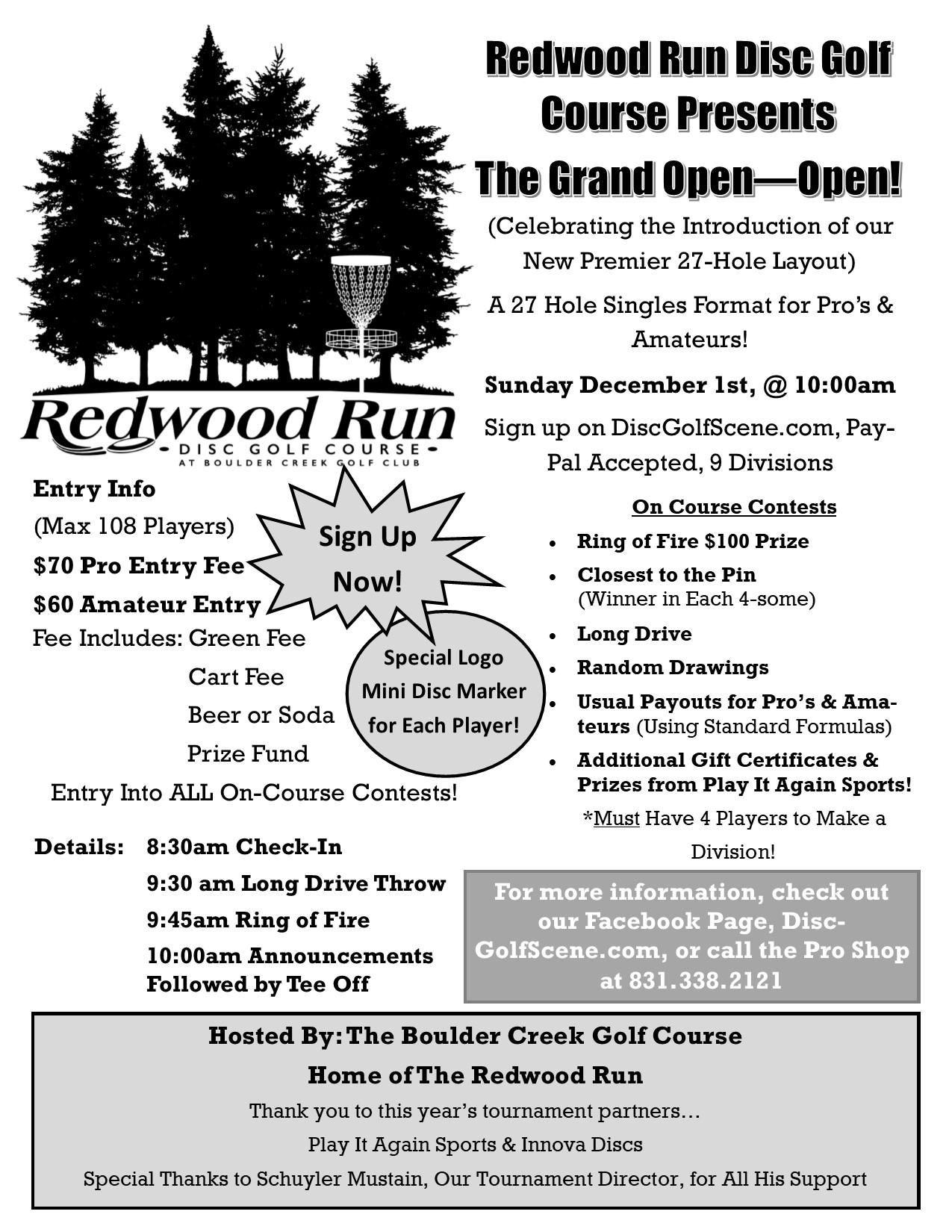 Redwood Run Disc Golf Course Presents The Grand Open – Open!
(Celebrating the Introduction of Our New 27-Hole Layout)
A 27 Hole Singles Format for Pro's & Amateurs!
Sunday, December 1st, 2019 @ 10:00am
Entry Info:
(Max 108 Players)
$70 Pro Entry Fee
$60 Amateur Entry Fee
Sign Up on www.discgolfscene.com
PayPal Accepted
Fee Includes:
Green Fee
Cart Fee
Beer or Soda
Prize Fund
Entry Into ALL On-Course Contests!
Each Player will get a Special Mini Disc Marker!
On-Course Contests:
-Ring of Fire $100 Prize
-Closest to the Pin (Winner in Each 4-some)
-Long Drive
-Random Drawings
-Usual Payouts for Pro's & Amateurs (Using Standard Formulas)
-Additional Gift Certificates & Prizes from Play It Again Sports!
*9 Divisions, Must have4 players to make a division!
Details:
8:30am – Check-In
9:30am – Long Drive Throw
9:45am Ring of Fire
10:00am – Announcements Followed by Tee Off
Hosted by The Boulder Creek Golf Course
Home of The Redwood Run
Thank you to this year's tournament partners…
Play It Again Sports & Innova Discs
Special Thanks to Schuyler Mustain, Our Tournament Director, for All His Support.
For more information, check out www.discgolfscene.com, or call the Pro Shop at 831.338.2121